Manga Haven: The Kyoto International Manga Museum
Hello again! The part-timer Brett here again! I hope that you the readers have had a good time reading the few blog posts that have been put up here! As life slowly returns to normalcy, I have been doing my best to stay safe while trying to keep myself busy with all the standstill we currently live in with Coronavirus. Finding stuff to do can be a struggle. But with every new experience gives me a new chance to introduce you to something new for you to see when you come to Kyoto and see it for yourself, once we can all travel again.
Now let's get to the next place I'd like to introduce you to! The Kyoto International Manga Museum.
Kyoto International Manga Museum
452 Kinbukicho, Nakagyo Ward, Kyoto, 604-0846
https://goo.gl/maps/4Yq3y92LNGZ44wndA
HOME
Repurposed from an old elementary school that was closed during a period of suburbanization in Kyoto, it is a Museum that was created with the cooperation of Kyoto city and Kyoto Seika University, it has stocks of manga prints dating from the early 19th century with many different specialty displays that rotate. While most of the museum is a no photo zone, there are certain areas that allow you to take photos of some of the exhibits. But let's roll back a few moments to give you an idea of what the experience was like for me.
I have read manga, and watched anime for years, consequentially quite nerdy but it is a great way to explore Japanese pop culture. You can see the transition of trends in Japanese pop culture through the way manga has been drawn through the years. You enter the Museum after passing a coffee shop that is a part of the building, buy your ticket into the museum and enter through past the front desk. In the front of the museum is an exhibit on Manga throughout the world, its translations, and its adaptions into many different languages. To the left of the international section on the day we went, a Manga artist was providing a live manga drawing display, which was projected onto a screen above them. As you go along you will see multitude of people sitting down and reading different volumes of manga that the museum lets you read. Many of the volumes are very rare and very expensive to find nowadays, allowing the general public to have access to them. Other exhibits included the process of how manga is written, published and produced, and how its been an object of piracy for decades in the international audience before its official publications.
In one of the back rooms on the day we went, there was a special exhibit of the original drawings of Aramata Hiroshi's "tale of the imperial capital". It is not the best thing to show children so I would not recommend bringing children to see this exhibition in the back necessarily. It is amazing to see the original pages that a manga came from. The original pages are much bigger and blown up such that you can see every fine detail properly shown.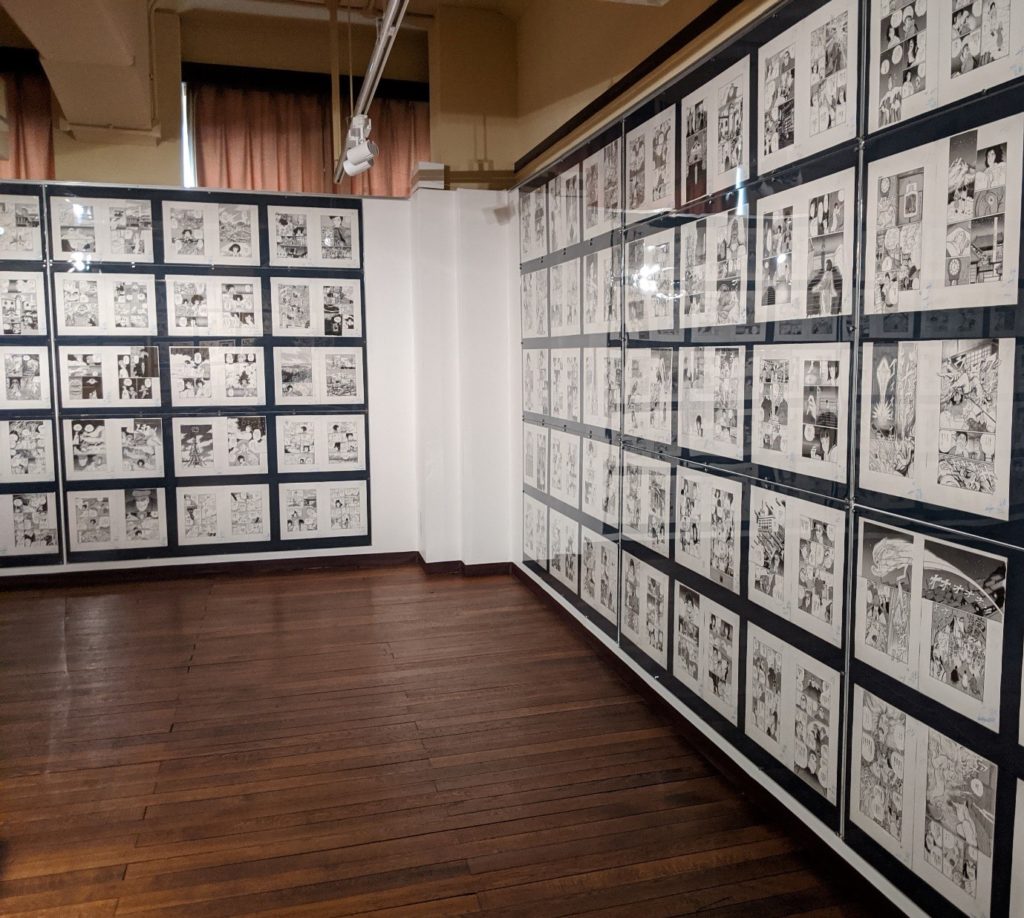 But besides the manga that is housed inside the museum, there is another little hidden exhibit that has less to do about manga, but the building itself. As the building was an elementary school that was founded in the late 1800's that was closed in the 1980's due to suburbanization and outflow from the city center.
While there may be a large language barrier, in that most manga that are on the shelf or on display are in Japanese. This is the perfect place for your little nerdy date on a slow day in which you just want to be in an air-conditioned room and take it slow and relaxed. And you will be able to find everything.
For myself, this was an amazing break from the world we live in currently, and I hope that you may find some time when you come to Kyoto to take a break from the Shrines and temples, to look more forward into what modern Japanese culture is doing. Japan is not just temples and shrines. It's a community that allows imagination to grow and be celebrated.
I hope you all are having a great time this month and I will be back soon with another update!
(This post is of the authors opinion and his opinion only.)